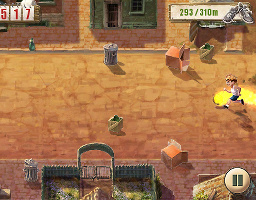 Who's got the hardest kick in your neighborhood? Are you the King-Kicker? Could you go down Interstate 66 dribbling like a superlative dribbler?

Then you are the one! This App is made for you!

Your fingers are in control! Strike and score points for everything you hit with the gleaming ballz of fire. Cardboard boxes, fences, cars, bikes – you can smash the ballz into them and score big. Every cardboard box extends your road and you will soar higher on the Worldwide Raking of the Kicker-King's!

Be prepared for exploding boxes, blasting fast fire ballz, exciting levels and a whole lot of pure quality gameplay.

Features:
Fantastic, realistic physics (ballz are bouncing and objects crashing realistically)
Open-end gameplay with easy controls, stylistic menus and an always reachable pause nob
Single player mode with Worldwide Dot8 Online highscore system
Nostalgic, sun dried cartoon graphics
Extreme special effects
Replay value: extremely addictive...